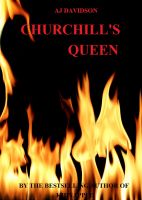 Churchill's Queen by A.J. Davidson
My rating: 3 of 5 stars
This is a good story, but it really could have used more editing and/or proofreading. I sent the author all the errors that I spotted, and the version available at Smashwords has been updated. I imagine other copies have also been updated, but I haven't been able to check.
The description says "Fans of The Eagle has Landed and Foyle's War will enjoy this book", and it does have some similarities to The Eagle has Landed, so if you enjoyed that, you'll probably enjoy this. Note that the story is entirely set in WW2, with a short epilogue covering an incident in Hong Kong. From the description, I'd expected the book to be roughly evenly split between WW2 and Hong Kong.